Wow, can you believe that it's the end of February already?!
It's certainly been a busy start for 2015 for Groupcall. Last month we had the Bett Show, and a very successful one at that. Our co-founder Sir Bob Geldof opened the show by giving a speech in the Bett Arena, which you can see here. He joined us on our stand for the morning, which was a great opportunity for him to share some of the exciting things that we're all up to at the moment. You can see his Sky interview here.
We think that Thursday was the most exciting day at Bett for us, and if you were around our stand there is a chance you know why...we had some fantastic flashmobs throughout the day, all of which were very well-received. It was great to see everyone stop and stare at the amazing dancers from Dancers for Events suddenly burst into their routines. The music was booming throughout the room and it definitely caused a stir! Were you lucky enough to see one of them on the day? If not, don't worry as we got it on film! You can watch the flashmob here. Enjoy!
Now that we're back in the office we've been working hard as we have so many exciting things up and coming, such as a brand new Messenger interface and a brilliant update for the Emerge app.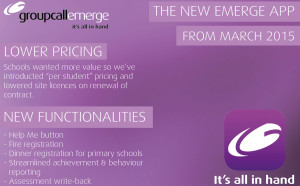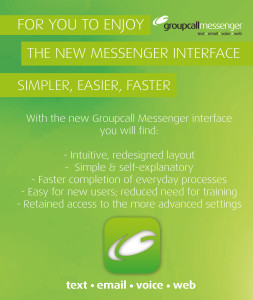 It's been all hands on deck to get these ready for all of our customers, from the techy team making sure it all works to the marketing team ensuring you all know about it! It's all worth it as we are so pleased to be able to give you these new features, based on feedback you've given us and things that you've suggested.
So, as you can see it's been all go at Groupcall HQ and the new year is off to a flying start. We hope that you're all enjoying 2015 so far too!
Please do keep in touch with us on Facebook and Twitter.
- Jocy, Marketing Executive