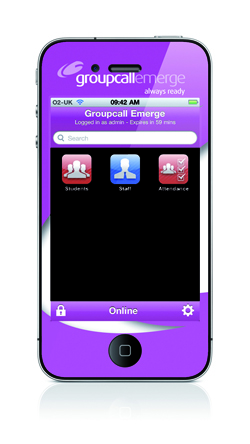 We are pleased to let you know that most schools have been updated with the following features & enhancements to the Emerge App!
Ensuring school's sensitive information is secure is central to the design of Groupcall Emerge & with this upgrade we bring you enhanced security! If the device has not been synchronised for a set number of days (default is 5 days but this can be changed to suit you), all Emerge data will be automatically deleted on the device, even in offline mode. Ensuring that your schools sensitive data is secure at all times.
We have also updated our Staff Module. The 'Teaching Now' capability provides a list of the teachers and the lessons they are currently taking and next of kin details have also been added for staff members.
Attendance taking has also been enhanced to provide a list of all lessons happening right now, in real-time. This helps facilitate, for example, cover staff trying to find the correct class for which to take attendance and any ad-hoc register taking.
We've also added multiple addresses for students with more than one address and addresses for student's contacts. However, these won't appear if they have been marked as 'undisclosed' in the MIS.
To put it simply, this latest Emerge release brings you the following enhancements...
Significant performance enhancements! Emerge used to update in 8 seconds now updates in 2!
Faster timeouts when checking connections in offline mode
Enhanced security checking
Greater support for 'older' iOS devices, as far back as the second generation iPod touch
Inclusion of an Intelligent Proxy Detection feature; providing improved 'in-app' proxy setting configuration. This is based on detection of a successful connection to the Emerge Service URL
Server support for additional messaging platforms including Groupcall's "Messenger Online" and "SchoolComms". This functionality requires an upgrade to the Emerge device and will be available towards the end of April/early May 2012
Integrated CMIS and SIMS installer.
We are always striving to bring you the best our Emerge App can bring. Be sure to follow our blog to be the first to hear about future Emerge updates and our next Emerge release coming soon in May!