Hi everyone! Just 9 days left until the Big Day - are you ready yet? Over the next week make sure you keep an eye on our Twitter as we have some interesting posts scheduled to help you prep for the holidays, from last minute gift ideas for tech lovers to apps that you might find useful over the festive period. What exciting things do you have planned for the last days of 2014?
It's been all go at Groupcall HQ lately. To start we had some new signage put up outside our office. Now you can see us from all over the place, particularly at night when we are glowing for everyone! Well, maybe not for EVERYONE, but we're sure that if you are driving around or over the Charlie Brown's Roundabout in South Woodford you'll be able to spot us quite easily now :-D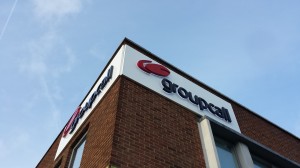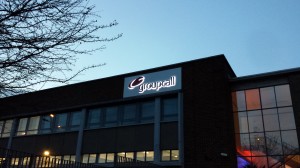 Let us know if you're passing by and manage to spot us!
The other exciting thing that happened over here was our Company Meeting on Friday. Everyone gathered in our office from all over the UK and we got together to discuss the past year and our plans for 2015. It was a very enjoyable day, particularly as we all swapped Secret Santa gifts! Some funny highlight presents included Steve's chocolate teapot and Joanne's dog-walking outfit! After the meeting we went for our Christmas party which was a lovely opportunity to all relax together and see everyone away from their desks.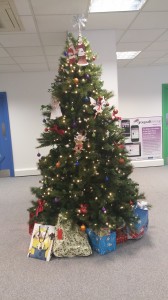 Our lovely tree with the Secret Santa presents underneath it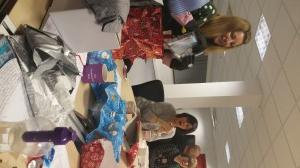 Mia opening her present - glamorous washing up gloves!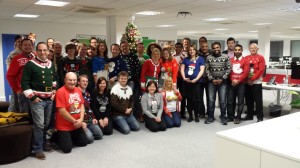 Friday was also Christmas Jumper Day for Save the Children so we managed to raise lots of money for charity. Don't we all look brilliant?! No comment about Nicki's tshirt at the front...
So as you can see we've been having a lovely festive time over the past month at Groupcall HQ. However I think everyone is looking forward to a well-earned break over the holidays, as we're sure you are too. Please send us any photos of what you've been getting up to at your workplaces on Facebook, Twitter or email. We'd love to hear from you!
Season's greetings and a very happy 2015 from all of us at Groupcall!