Over the last few weeks the marketing department have been planning for the upcoming holidays alongside our more usual work. We wouldn't want to ruin any surprises but here is a little snippet of what we've been up to...
We love the little gingerbread man, do you think he'd make a good Groupcall mascot? Speaking of mascots, here's someone else who we would love to be our mascot!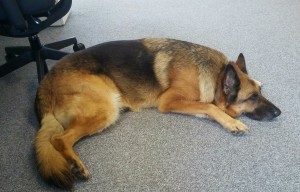 This is Fred, who belongs to our landlord. We get so excited when he comes into the office to visit us, and luckily for the marketing department he always wants to spend time with us because Marketing Manager Nicki always has some doggy choccy drops for him! He's lovely and friendly and we look forward to his visits.
Are you a Groupcall Messenger user? If so you have hopefully seen the new eCard feature that we have very recently introduced. If you've used it already let us know! We think it's a great idea for quick and easy certificates and reminders. Keep us posted with how you're finding this feature. Have you designed and uploaded any of your own eCards yet?
If you're not a Messenger user yet but you want quick, easy, cost-effective parental communication for your school then we're sure we have the perfect solution. To find out more we have a fantastic little animated introductory video about the system which can be found here.
Thanks so much for reading the first of many new blogs that we'll be posting. Remember you can keep in touch with us and that we're just a phonecall away if you need help or advice about any of our products, 020 8506 6100. You can also fill out this form if you would like us to contact you.
Here's where you can find us online -
- Jocy, Marketing Executive