The days of a newsletter for parents looking like it was typed on a manual typewriter, full of text and nothing else, and sent home with children only for them to lose it, are over. Schools can learn a lot from email marketers, and make their newsletters look good, with great headlines.
There are several online tools that are extremely useful for creating the parents' newsletter, and, even better, they are free.
Google docs
Google Docs is a great tool for writing a newsletter for two reasons. First, because it's online, you can continue working on it from anywhere. So if you suddenly get called upon to cover the school's 'sin bin', you just have to take your laptop or tablet and carry on working in there.
Secondly, other people can add their bits or edit yours without lots of versions going backwards and forwards. So if a MAT is creating a central newsletter for all its schools, Google Docs will allow individual schools to contribute a paragraph or two about their own news.
Incidentally, other tools, such as Microsoft's Office 365, also allow collaborative working online.
Once you've written the newsletter, save it as a Word file, insert your graphics, and then save as a pdf ready to send out to parents by email -- and have it uploaded to the parents' area of the school's website.
Grammarly
As its name suggests, Grammarly is an online grammar checker, which will prod and prompt you as you write. There's a full bells-and-whistles version which comes at a hefty price, but the free version is good enough.
Hemingway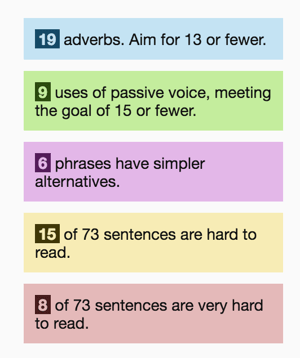 Once you've written the newsletter, you may want to run it through the Hemingway app. This will highlight issues like passive sentences (active ones are usually better) and unduly long ones. See the image to the right as an example of a Hemingway report. All you have to do is go to www.hemingwayapp.com and copy and paste your text onto the screen (after deleting the 'dummy' text already there). Anything the app doesn't like will be highlighted, with different 'errors' highlighted in a different colour.
Readability
On the subject of long sentences, how difficult is your text to read? There are several ways to check for this, as we saw in the article Making your messages readable. A very good all-in-one solution, that uses several types of measure at the same time, is Readable. Again, all you do is copy and paste your text onto the screen, and click 'Calculate Readability'. The nice thing about it is that as well as giving you several different scores, it presents you with a headline result. In the screenshot shown here, for example, I am told that my newsletter can be understood by 15 to 16 year olds.

It isn't quite as useful as the Hemingway app in that although it tells you what percentage of 'complex' words there are in the piece, and the average number of words per sentence, it does not highlight where these supposed errors occurred, or suggest how you might correct them. But for a quick indication of the writing's reading age it is difficult to beat.
Typely
Another very handy utility is Typely, which is an online proofreader. This covers some of the same ground as Hemingway, but it has a nice text-to-speech feature. It means that if you have the time you can listen to the newsletter because quite often that approach will show up mistakes you hadn't noticed when proofreading it in the normal way. The only issue is that the feature does not appear capable of handling a large amount of text at once. But it's free, so who's complaining?
Headlines
Rather than have straightforward factual kind of headlines ("School sports day announcement"), you might want to make them more intriguing ("3 reasons you won't want to miss the forthcoming Sports Day").
There is some handy advice on headline-creation here: Headline writing tips. Bear in mind that the article is aimed at marketing people, so you will need to take some of it with several sacks of salt. But then again, the newsletter's job is to promote the school as well as inform parents, so some of the suggestions will be apposite.
Graphics
A good source of photographs and cartoons is www.pixabay.com, whose images are completely free to use (apart from the ones with a 'stock photo' watermark near the top of the site). Many of the illustrations used in my Groupcall blog posts come from there.
Another good source, of course, is your school or schools. Why not set up a Flickr account and encourage staff and pupils to upload photos (via their teachers) there for the school's use? (With proper GDPR permissions, of course...)
Let us know...
Do you have any top tips for writing a school newsletter?