Earlier this year, Ofsted committed to reducing unnecessary workloads with their involvement in Teacher Workload Review Groups. The groups' recommendations for school leaders, teachers, the DfE and Ofsted aim to find a balance between what is best for pupils while being manageable for teachers.

This is promising news for teachers, however stress and pressure within the profession continues to increase. The DfE found the average primary school teacher works 55 hours per week, including nearly 19 hours working in the evening and weekends. Secondary teachers work 53 hours on average, with 16 hours spent on work outside of working hours, so when should you push back and how do you find a work-life balance?
Signs teachers' workloads are too great
Four in ten new teachers quit within a year and nearly half of England's teachers plan to leave in the next five years, blaming pay, class size and workload. There is a direct correlation between stress levels and teachers' workloads, with both reaching unprecedented heights. The NASUWT teaching union found over half of the 3,500 respondents considered quitting the profession in the past year, with 89% citing workload as their top concern and 83% experiencing workplace stress.
The demanding nature of teaching is common knowledge; however, it can also have a long-term impact on health. In any given day, teachers may plan lessons, mark work, write reports, counsel students, tidy classrooms, create resources or displays, separate fights or do lunch duty – and that's before accounting for actually teaching lessons.
This pressure makes the body release stress hormones and prolonged exposure can have serious effects on health, both physically and mentally.
Individuals can find their confidence, feelings of self-worth and patience may decrease, which can lead to weaker relationships and rising tensions amongst members of staff. Finally, it can get to the stage where even the smallest additional pressure proves too great, which can lead to arguments, illness, breakdowns, prolonged periods off work or quitting altogether.
5 tips to Reduce Teacher Workloads
For new teachers or teachers who have changed roles, finding a balance between managing their workload and keeping a functional personal life may take a little longer, however it is possible to have a healthy balance of both. An investigation by the Department for Education found the areas causing the greatest amount of unnecessary work were planning, marking and data management, with admin also taking up a large portion of teachers' time.
1) Reduce Admin Time
The DFE Teachers' workload diary survey found approximately 35% of the average teacher's time is spent teaching. The rest is taken up by administration; logging attendance, minutes late, absence notes, medical, behavioural and achievement data… but it needn't be. Admin time can be reduced for both teachers and other staff at the school by using EdTech.
Groupcall's Emerge is a powerful platform designed for educators to view and interact with core MIS data anywhere, anytime, across a variety of devices. Emerge improves working flexibility for teachers as data can be logged into the system wherever you are. Attendance can be taken on a school trip or in an emergency, which will then sync with the core MIS data.
The system is cost-effective, easy to set up and efficient at reducing admin time, meaning more time for teachers to do what they do best – teach.
Easily access the information you need, when you need it
Improves working flexibility
Increases teaching time
Ensure staff and student safety
Easy to set up and use
Useful management reporting
Cost-effective
Multi-platform
"I have found it invaluable when meeting parents. I can show them behaviour, achievement and attendance information, when we are talking and looking up other relevant information it is immediate. It is great for taking registration on-the-go!" – Stoke Dameral Community College
2) Increase Parental Engagement
Teachers' main concern with parental engagement may be that it will cause more work for them, but, providing a great parental engagement strategy is in place, it can actually reduce teachers' workloads. The DfE found teachers currently spend over 60% of their time (33%) on tasks such as management, paperwork and working with pupils and parents and recommend an improved communications strategy as a method of reducing workload. Schools can use EdTech as part of their strategy are able to contact parents in minutes, informing them of students' behaviour, absence and performance.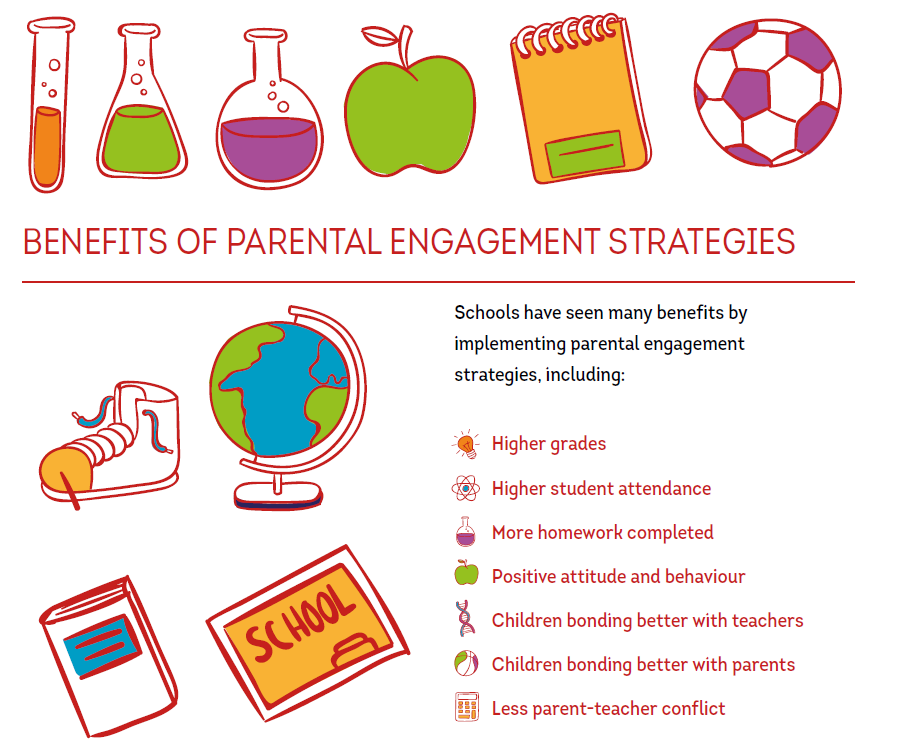 Download the full guide to parental engagement, including how to create and implement a parental engagement strategy, with tips from teachers and schools.
3) Resolve Over-commitment issues
It can be hard for teachers to say no, as many additional tasks such as extra-curricular activities and pastoral care issues are so rewarding and motivating. However, there will be a limit and it's important to push back to take care of yourself.
Colleagues may be more understanding if you explain how you'd love to help, but are struggling with your current workload rather an outright 'no'. With pastoral issues, ensure someone else is also involved so they can support you and take over if they need to.
4) Keep feeding back on health & stress levels
Teaching is an incredibly rewarding profession, but is a fast-paced job with little time to catch your breath. School leaders need to provide a support network for teachers to ensure they don't feel alone and are supported by the rest of the school.
Recognising the symptoms of stress when you're overwhelmed by workloads is the first step, but often more support may be required, such as talking to a GP or a specialised organisation such as the Education Support Partnership.
The best teachers are renowned for putting the needs of their students above their own, but the balance needs to be right. If by doing so, teachers are putting negative pressure on themselves which is impacting their health and stress then the quality of their teaching will soon begin to wane.
Tom Sherrington, Head Teacher at King Edward VI Grammar School says:
"Often stress comes from teachers feeling over-directed. Each school is different; however, teachers do have a lot of autonomy which they need to use. Lessons should be enjoyable for yourself as well as your students; teach the fun stuff and tell the stories you want to tell. Teaching should be joyful."
"A family-first attitude is also healthy and good schools support that. Family events, weddings or graduations are important. Don't be afraid to ask if you can go. Be prepared to help cover colleagues from time to time. Ignore the stay late culture if there is one; it's never the sign of an effective school. Manage your own time and be your own boss to the greatest extent possible" (Source: The Guardian).
5) Establish a flexible teaching style
For teachers, no two days will be the same. Lesson plans are important to help steer each class, however what has been planned and what will happen can differ greatly. Children are unpredictable, so when it comes to teaching them, anything could happen.

In order to cope with any circumstance, it's important to have a flexible approach to teaching and flexible processes to help you maintain structure and control. Likewise, it's important to take a similar approach to admin and workloads – something EdTech can help to reduce.
Workloads can be unnecessarily large due to dated processes and systems that don't allow teachers to be flexible. Using modern technology and mobile apps, the data is synced to the school's MIS, meaning more time within the lesson to teach, and no time is wasted later in the day uploading the data back into the system, which can be particularly useful for school trips and PE lessons where getting to a computer may prove difficult.
It has been suggested by the DfE that a reduction in written lesson plans can help. The freedom to act independently of a script not only allows for a teacher's time to be allocated elsewhere, but opens the possibility of tailoring a lesson on the move. Students are naturally inquisitive, and by adapting lessons in progress, the results have plenty of potential.
Discover Emerge
Groupcall Emerge is the powerful yet intuitive app enabling schools to have an up-to-the-minute copy of their MIS data instantly and securely available in the palm of their hand for access anytime, anywhere. Registration can be taken and student information (timetables, etc.) can be accessed wherever you are, without the need to rely on a desktop PC.

Emerge can also be used in an emergency e.g. where the school system may be down or access to the school is restricted, thus ensuring staff and student safety is paramount at all times.