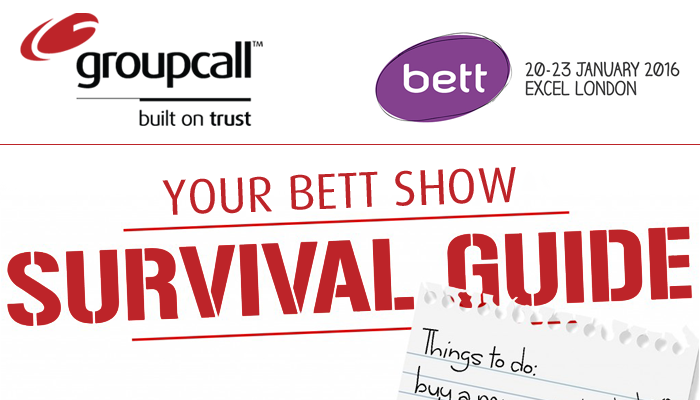 - A blog post written by Graham Reed, Product Manager at Groupcall Ltd.
With this year's Bett Show just around the corner, Groupcall have been working solidly in preparation for Europe's biggest education technology show, both in products as well as the large-scale logistics that for any veteran of the show knows that are anything but routine.
This will be my 7th year attending and Groupcall's 12th, earning me and us the deserved rank of experienced for Bett exhibiting. To help you make the most of Bett and to ensure you get out alive, our staff have shared some of their tips and secrets for the new exhibitor and attendee to this wonderful, if hectic, spectacle.
Groupcall Staff Tips:
"Keep a look out for all the freebies on offer!"
"Don't make the mistake of attempting to buy lunch…at lunch. The long queues will do their best to ensure you miss a lot of the show!"
"Wear REALLY comfortable shoes!"
"Make sure you come and get a coffee and sit down with us at the Groupcall stand (B188)."
"Register online beforehand to avoid queues getting in to the venue."
"Plan your visit in advance to ensure you see everyone you want to – the show is huge!"
"After 3pm is the quietest time and easiest to walk around"
"There are cloakrooms where you can store bags and coats, but the queues are often long at the start and end of the day."
"Get a map of the venue and mark out where you're interested in visiting – they are free to collect at the entrance"
"See if there are any talks you want to attend. Take notes; if you have access to a tablet install an app that supports audio recordings so you can share talks with colleagues (or take better notes later)."
"Enjoy yourself!"