Information from a report by London & Partners and EdTech UK has shown that Education Technology is one of the fastest growing technology sectors in the UK. With over 1,000 start-ups across the country, the sector was valued at £45bn in 2015 and is forecast to be worth £129bn by 2020.
EdTech is transforming the entire education sector, rapidly enhancing student achievement by providing a whole host of benefits to schools and teachers, such as minimising administration time, improving communication and enabling flexibility in education. This leaves teachers with more time to concentrate on nurturing their student's individual development and educational needs.
Despite the growth in the EdTech sector, many schools are yet to embrace these advancements, with teachers still being restricted by time and resources on a daily basis. Technology has been providing flexible working solutions within the commercial industry for many years now, so isn't it time for educators to get on board?
How EdTech enables flexible working
Mark Chambers, the CEO of Naace, states that "the risk for the UK system is that we stagnate with increasingly ageing technologies rather than maintain the cutting edge in practice for which we had established an excellent international reputation." As our society's reliance on technology increases, schools too can upgrade to better systems that allow staff to work in a more flexible way.
Indeed, at a conference only a couple of weeks ago, Justine Greening asked for help in identifying ways to make better use of part time and flexible working: "cracking that effectively is absolutely key", she said.
By using technologies such as Groupcall Emerge, staff can have access to a copy of their MIS data instantly and securely. Data can be entered into the system; automatically syncing so all staff can access accurate information. Groupcall Emerge improves working flexibility, enabling secure access to the database, both in the classroom and offsite with Groupcall Emerge Mobile.
This data can also be quickly accessed when on the go (e.g. a school trip), in an emergency (e.g. a fire drill) or when working flexibly (such as from home) or even if the school's internal system is down or restricted. Important tasks are more flexible and no longer rely on the child's account; using technology, a student's whereabouts can quickly be queried and confirmed by the parents instead.
The product also enables more time for teaching in each lesson with its flexible registration and automatic syncing. While traditional registration can take an estimated 8 minutes per lesson, a digital app can take just 30 seconds, freeing time for more teaching during the class and less admin time inputting data to the MIS.
Should an incident occur during a lesson, it can easily and quickly be noted down, and through the app, other teachers can also be alerted. Both positive and negative behaviour can be recorded, which can then be discussed with the student and parents at a later date.
"I have found it invaluable when meeting parents. I can show them behaviour, achievement and attendance information, when we are talking and looking up other relevant information it is immediate. It is great for taking registration on-the-go!"
Stoke Damerel Community College on Groupcall Emerge
Discover the full benefits of Groupcall Emerge.
How EdTech encourages parent - teacher communication
One core problem that hinders effective parental engagement is communication. Parental engagement comes with several obstacles; one of the largest problems being the lack of communication between parents and teachers. By increasing information sent between teachers and parents, both parties will know what the student is learning about now and in the future, any topics the child is struggling with and what parents can do to improve their child's performance.
How can teachers find time to regularly communicate with so many parents and give specific, useful information about individual children's behaviour and learning in order for the student to succeed?
Through the use of EdTech, communication channels between parents and teachers can be opened up through several different mediums, at a time that is convenient to the parents. Parents have the best opportunity to work with the school and improve their child's learning through the use of EdTech.
Using Groupcall Messenger as an example, staff are given the freedom and flexibility to quickly notify parents about their child's behaviour, whereabouts and homework assignments. Teachers no longer need to print and distribute letters, which could take days to reach parents and then a further few days to get a response. Teachers can now quickly make notes about individual children - which is then synced back to the main database – and take action after classes are over.
Parents can be sent information about the curriculum, positive feedback about their child, information on a PTA events or a reminder about an upcoming parents evening.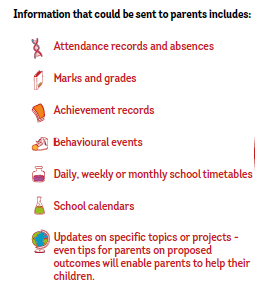 The system can also be used to quickly send out messages if the school is closed due to an emergency or an inset day. Through these EdTech advancements, schools have saved thousands of pounds as well as hours of admin time, freeing up staff to invest more time in their students.
"We love it and could not now exist without it – in fact our parents are complaining if we do not send a message to them! When we need to contact parent/carers regarding; urgent cancellation of school activities; school closure; reminders about visits out; best wishes for holidays; thank you to parents for support – the system is excellent."
Essendine School, London on Groupcall Messenger
Discover Groupcall Messenger – request a free trial today.

The benefits of Edtech for schools
The introduction of EdTech allows flexibility in education, both in the way students learn and the way teachers and staff manage students and their education. Through the use of EdTech, staff can communicate more efficiently than ever with parents and stakeholders. The traditional method of sending letters home can take days however sending and receiving information through text or email takes mere minutes. Incidents and achievements can be addressed or rewarded by staff and parents in the same day, rather than days or even weeks later.
For teachers and staff, EdTech allows for more teaching time, with reduced admin time updating student records. Information can be synced and accessed wherever you are, allowing accurate information to be entered quickly within minutes rather than at the end of the day. Each student can be portrayed individually, which can then be used to help them achieve their full potential.
The future of EdTech in the UK
It is extremely impressive to see how much the EdTech industry has transformed how teachers and students work and learn, with much potential for further improvements. The UK is home to some of the world's leading schools, colleges, universities and education businesses. London, especially, is recognised for education excellence and a thriving technology sector and could become the EdTech capital of the world.
Currently, EdTech is facilitating flexible working in education by speeding up communication so it takes minutes rather than days, increasing the amount of information sent home and making information stored in schools' MIS unique to individual students, so teachers can tailor learning. New systems also allow information to be synced easily to the main database, even when on school trips, meaning teachers are no longer restricted to their classrooms.
Financial forecasters have predicted an increase in education and learning investments – up $252 billion globally by 2020. If digital technology continues to become more integrated into the education sector, the UK could soon fulfil its potential and become the EdTech capital of the world.
Groupcall helps schools enhance their flexible learning capabilities through EdTech which is simple to set up and simple to use. Find out more about Groupcall's tailored solutions for schools and get a free trial today.