Information security is a funny thing. Often, we enter our details into websites and post updates on social media without a second thought. Fortunately, the movement of children's data has always had much more scrutiny applied in the EdTech industry, but with the advent of the General Data Protection Regulation (GDPR) coming in to full effect in May, never more so than now.
Many of you may have already attended one of our GDPR training roadshows where we have provided grass roots GDPR training and advice to hundreds of schools and dozens of Local Authorities. Attendees have found these sessions invaluable to helping them understand their position and the impact GDPR will have on their day to day tasks and processes.
One of the questions becoming more common, not just in technical circles, is that of "where is my MIS data being transferred to, what data is being transferred and how secure is it?".
For the last 16 years Groupcall's Xporter client has been providing a service for over 18,000 schools in the UK, securely transferring data to the third-party services that schools use to run their business. Systems such as CPOMS, Satchel (ShowMyHomework), MicroLibrarian, GCSEPod and about 100 more of our partners use Xporter to securely transfer data from your MIS to the platforms you subscribe to on, a daily basis. It's very likely that your school has installed Xporter to securely transfer data to one or more of the EdTech partners that you use.
But, how can you be confident you can tell your senior leadership team exactly what data is being transferred and where to?
In all probability, that is going to involve searching a lot of servers and making a lot of calls to the various software providers you have contracts and agreements with. We don't think it should be that difficult, so to assist schools with their GDPR compliance and general peace of mind we have developed our new Xporter School Portal, free for schools using Xporter to transfer data to any of our partners or local authorities who use us.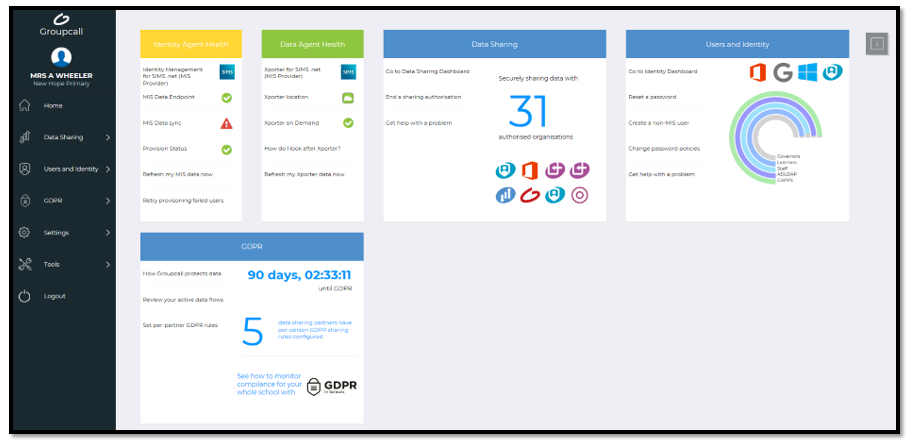 School Portal Dashboard
School Portal collates all of the data feeds configured in Xporter for your school and displays them, with information about each feed so you have complete confidence in who is accessing your data, what data they are accessing and where that data is being held.

Data Feed Visualisations
For partners who are using our latest data integration platform Xporter On Demand you also have tools at your disposal to choose how to share your data and even specifically which people to include. We've all had the scenario where there are reasons a student, parent or member of staff should not be uploaded to a particular website. With our free School Portal you now have complete control of this and can reassure staff and parents that such requirements are taken care of with websites that use Xporter On Demand. Check out the video our colleague Max put together to help you through the process.

Data sharing options and GDPR sharing compliance
School Portal has tools to provide you a personal data flow report that details for a specific person which data feeds they are included in, which they are excluded from and what data may have been transmitted about them. With GDPR, removing access to data is just as important as safely granting it. Whatever data sharing technologies you use, you should make sure they are very clear about how to stop sharing data too. From School Portal you can easily disable the data feed for any partner that is enabled - make sure any other technologies you use can do the same!