As parents, it is natural to want to be in the know about every facet of your child's life. They are yours to raise and care for, and every good parent wants their child to succeed. When it comes to education, it is for many parents, the first time you are truly away from them. It is then the school's responsibility to ensure that parents are engaged. As students progress, this relationship can change as well, and so Groupcall spoke to both parents and members of school senior leadership teams to analyse which the difference in parental engagement levels between primary and secondary schools.
One of the most direct ways to answer this was to go directly to the parents, asking them about their involvement with their children's education on a day to day basis. As the charts show, there are very apparent differences between the two.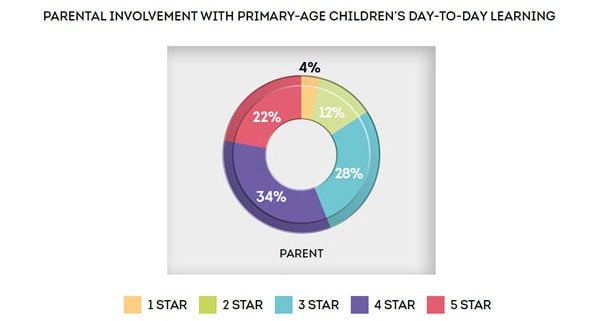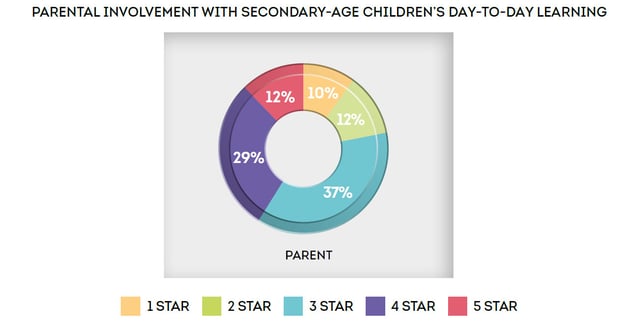 It is to be expected, to an extent, that parents are less involved at the secondary stage. As children get older, their learning becomes more independent, and they are expected to be managing more by themselves. The results reflect this as well, with parents scoring 5 stars being much more common among primary than secondary, and 1 star ratings being more common with secondary.
When the extreme responses are taken out of the equation, the results aren't as different as you would expect. The middle ground (2-4 star) is occupied by 74% of primary school parents and 78% of secondary schools. An equal proportion of parents for each stage scored 2 stars and the difference among 4 star ratings was only 5 percentage points. For each stage, the majority of the responses were between 3 and 4 stars, with primary proving to be more effective.
It was important to assess the efforts made by the schools themselves to see if there were any large discrepancies between primary and secondary education. The first aspect examined was the frequency of communication: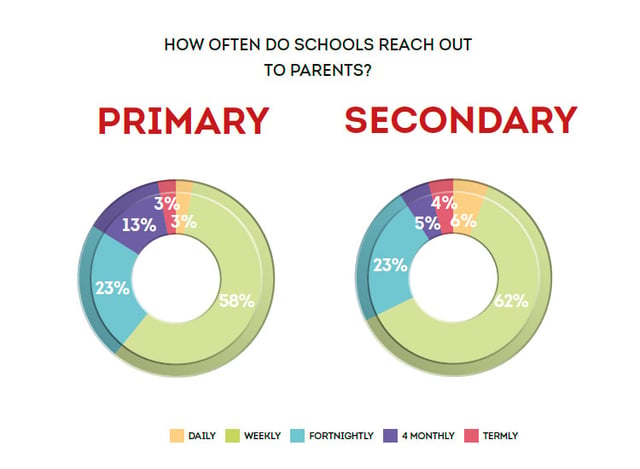 As can be clearly seen, there is no obvious distinction between the two. A very small number of schools engage with their parents on a daily basis. The vast majority communicate once per week, with a smaller chunk opting to do so on a fortnightly basis. Schools that only reach out once per term are mercifully rare.
With both sets of schools communicating at the same frequency as each other, but primary school parents feeling considerably more engaged, the last section to analyse was the perception of the schools themselves. Naturally, given they are not on the receiving end of the communications, they do not have any great insight into how effective they are, but they can give a good indication as to the amount of effort that goes into maintaining the relationship.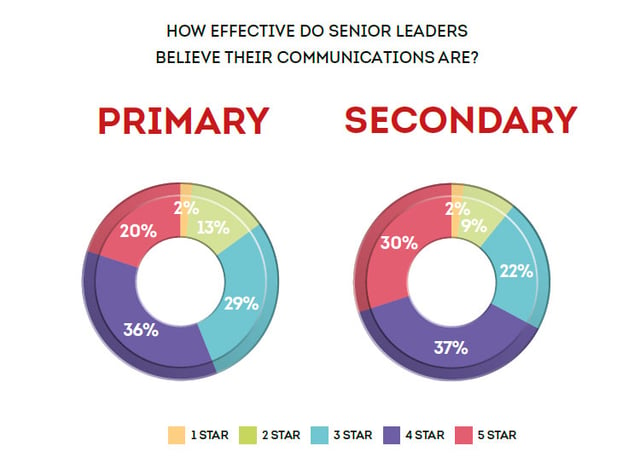 Surprisingly, given the responses of the parents earlier, it was secondary schools who graded themselves as more proactive than primary. Among the top ratings (4 to 5 star), secondary schools had 62% of their votes weighed in, versus 51% of primary schools.
When placed alongside each other, the responses conflict with each other. Parents firmly believe it is primary schools who are better at engaging parents, yet secondary schools claim to dedicate more of their efforts towards it. They both communicate with roughly the same frequency as each other.
There are two possible explanations; the first is that primary schools are simply better at engaging parents when they do it. The problem with this is that it disregards the differences between the two stages. Primary schools and secondary schools operate in a manner very different to each other and face different challenges.
The other explanation is that the nature of parental engagement changes as a child gets older. With primary school parents having just one main point of contact and secondary schools having around a dozen, it is much more difficult for secondary schools to be consistent. Given the difficult nature of speaking to so many teachers outside of parents' evenings, it is likely that most of the engagement they receive comes from school office communications. In this case, secondary schools may well be devoting more of their time and resources towards keeping parents engaged, but due to the lack of face to face communication, the parents are much less satisfied than they are when primary school teachers grab them for a few minutes.